Accueil > MARX - MOUVEMENTS COMMUNISTES > PARIS - 24 JANVIER 2015 : MARXISME ET LA LUTTE ANTICOLONIALE EN (...)
PARIS - 24 JANVIER 2015 : MARXISME ET LA LUTTE ANTICOLONIALE EN ALGÉRIE
vendredi 12 décembre 2014

Allison DREW
(Professeur de Sciences politiques, Univ. York)
Samedi 24 janvier,
à 14h
Sorbonne
amphi Lefebvre
Amphithéâtre Lefebvre (escalier C, 1er étage)
17, rue de la Sorbonne,

75005 – PARIS
Entrée conseillée : 14, rue Cujas
RER : Luxembourg
---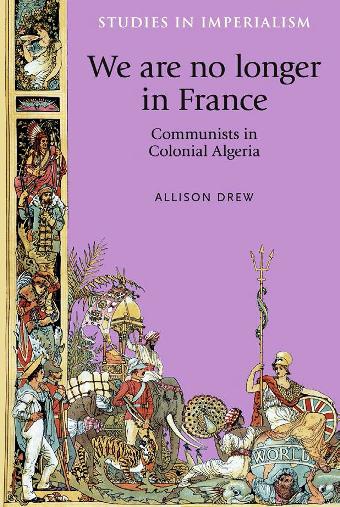 We are no longer in France
Communists in colonial Algeria
Studies in Imperialism
HB 978-0-7190-9024-0
£75.00
234x156mm 336pp
September 2014
Allison Drew
Manchester University Press
Oxford Road
Manchester M13 9PL
+44 (0) 161 275 2310
www.manchesteruniversitypress.co.uk
This book recovers the lost history
of colonial Algeria's communist
movement.
Meticulously researched
– and the only English-language
book on the Parti Communiste
Algérien – it explores communism's
complex relationship with Algerian
nationalism.
During international
crises, such as the Popular Front
and Second World War years, the
PCA remained close to its French
counterpart, but as the national
liberation struggle intensified, the
PCA's concern with political and
social justice attracted growing
numbers of Muslims.
When the Front
de Libération Nationale launched
armed struggle in November 1954,
the PCA maintained its organisational
autonomy – despite FLN pressure.
They participated fully in the national
liberation war, facing the French
state's wrath. Independence saw
two conflicting socialist visions, with
the PCA's incorporated political
pluralism and class struggle on the
one hand, and the FLN demand for
a one-party socialist state on the
other. The PCA's pluralist vision was
shattered when it was banned by the
one-party state in November 1962.
This book is of particular interest to
students and scholars of Algerian
history, French colonial history and
communist history.
Contents

Introduction – Imagining socialism
and communism in Algeria

1. The land and its conquest

2. Grappling for a communist
foothold

3. 'The mountain "was going
communist"' : peasant struggles
on the Mitidja

4. 'This land is not for sale' :
communists, nationalists and the
popular front

5. The nation in formation :
communists and nationalists
during the Second World War

6. For an Algerian national front :
unity and division in the liberation
struggle

7. Sparking an insurrection :
pressure from the countryside

8. 'Our people will overcome' : to
the cities and the prisons

9. 'We need a country that talks' :
imagining the future Algeria

Conclusion : Algerian communists
and the new Algeria

Bibliography

Index