Accueil > CULTUREL > LONDRES - 17 NOVEMBRE : PROJECTION DU FILM "LA MONTAGNE DE BAYA"
LONDRES - 17 NOVEMBRE : PROJECTION DU FILM "LA MONTAGNE DE BAYA"
jeudi 14 novembre 2013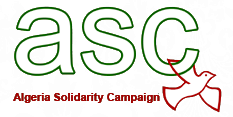 To commemorate the 59th Anniversary of the Declaration of the Algerian War of Independence on 1st November 1954,
ASC Kasbah Movie Club (Hosted by the SOAS Algerian Society) is delighted to screen Azedine Meddour's film Adrar N Baya (La Montagne de Baya),
this Sunday 17th November,
at 14:45pm
in SOAS, Brunei Gallery, Room B102
10, Thornhaugh Street, Russell Square, WC1H 0XG Londres
(Please arrive early so we can start at 3pm sharp)
Please note that this screening will be in Kabyle (Berber)+ French Subtitles.
Please see details below.

ASC Kasbah Movie Club presents :
La Montagne de Baya (Selection at Venice Film Festival)
Director : Azedine Meddour
Language : Berber (Kabyle) with French subtitles
Length : 110min
Year:1997
Room B102, Brunei Gallery.
In Kabylia, at the start of the century, a whole village escapes French colonial oppression. A woman, Baya, refuses the affront of a tradition : A feudal lord (Bach Agha), murderer of her husband, offers her money, the Diyya, the compensation for the shed blood. Her peasant community would like the money to be used to pay for the war tax in order to recover their lands.
Baya thus embodies the tireless obstinacy of a certain form of honour. Beyond the so-called "La Permanence berbère », this capacity to resist while staying faithful to one's traditions, language and system of thought as well as the intransigence of Baya, set an example for a whole people. In fact, it's to contemporary Algeria that Azzedine Meddour addresses this fable that took place almost a century ago.
The screening will take place at SOAS in Brunei Gallery, Room B102. Screening will start at 3pm.
The movie will be followed by an informal discussion.
ASC aims at promoting Algerian culture and regularly organises the screening of Algerian movies (or movies related to Algeria) for us to discover, rediscover Algerian cinema and also talk about issues related to Algeria.
---
---
Voir en ligne : http://www.algeriasolidaritycampaig...