Accueil > TRIBUNES, ACTIVITÉS, LECTURES > RichMix London - October 20th : ALGERIAN CULTURAL FESTIVAL
RichMix London - October 20th : ALGERIAN CULTURAL FESTIVAL
samedi 6 octobre 2012
---
"Algerian Cultural Collective (ACC), in partnership with the Algerian Solidarity Campaign (ASC), presents :
the Algerian Cultural Festival (ACF), London/UK.
---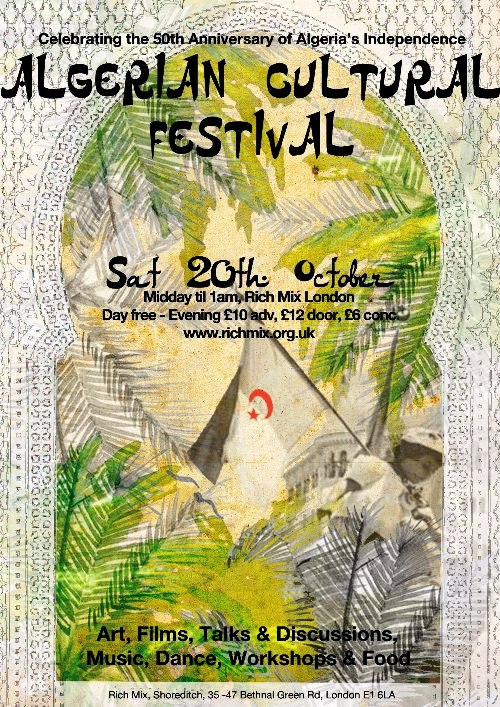 ---
Dear members and friends of Algeria Solidarity Campaign (ASC)
ASC is proud to be the Official Partner of the "Algerian Cultural Collective" (ACC) in organising a wonderful initiative :
the first, UK-based, Algerian Cultural Festival (ACF),
to mark Algeria's 50th independence anniversary.
and to bring the Algerian culture in all its richness and diversity to a wider audience.
The event will take place
on Saturday 20th October
From 12pm to 1am in the morning
at the Rich Mix Cultural Centre in London, UK
see below links for full details
ASC believes that the festival will be an excellent opportunity to reflect on the anti-colonial struggle, contemplate post-independence Algeria, as well as examine legacies bequeathed to a young nation looking ahead towards a better future.
The ACF has been conceived as an independent and not-for-profit initiative. It was born out of a desire to both commemorate this momentous anniversary in Algerian history, an important date little talked about in Britain, and to promote the country's rich cultural heritage in all its diversity, which is under-stated, under-covered and often misunderstood abroad.
The ACC's own long-term vision revolves around "sowing the seeds to nurture intermarriage of cultural initiatives between Algeria and the UK".
ASC, on the other hand, campaigns for genuine, peaceful and democratic change in Algeria and strives to provide a forum and a sphere of dialogue, in which the exchange of ideas and knowledge concerning the challenges facing the Algerian people is made possible. Our organisation is, therefore, strongly committed to the long-term vision of the Collective, in building a more vibrant, open and cohesive Algerian community, here in the UK.
For more info : please have a look at :
.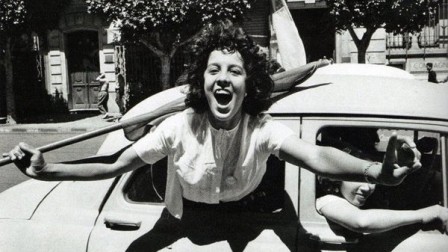 The day-long programme is set to feature talks & discussions, film screenings, art exhibitions, culinary tasting, workshops, live music and dance performances. The programme outline can be found on the below links :
Tickets : the day is free but you'll need a ticket for the evening (which will entail a screening, dance performances and a diverse lineup of live Algerian-UK music.
Don't delay, get your tickets today on the Rich Mix's web page or by calling the box office on 020 7613 7498, as they are limited and selling like hot Boureks* !
We hope to see you all there. Please spread the word to anyone you think would be interested in this unique event.
ASC Committee
---
ASC on Twitter :
@AlgSC
---
* a "bourek" is a type of baked or fried pastry made of a thin flaky dough.
---
---
Voir en ligne : http://www.richmix.org.uk/whats-on/...